Life
Modern mystery meets present history
By Zhang Kun (China Daily)
Updated: 2011-05-27 08:01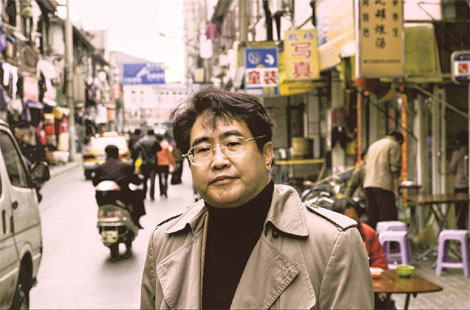 US-based mystery writer Qiu Xiaolong often visits his hometown, Shanghai, whose rapid development is a theme of his works. Provided to China Daily
A detective writer strives to show the changing social realities of the times in his whodunit storylines. Zhang Kun reports.
Qiu Xiaolong sat down to write a poem about the country's rapid transformation and ended up authoring a mystery novel set in contemporary Shanghai.
The poet and translator, who lives in the United States, found great success with his first attempt at fiction, a genre into which he dove in the 1990s.
His 2001 English-language Death of a Red Heroine won the best novel category of the Anthony Award, a prestigious prize for mystery writers. The exploits of the protagonist, Inspector Chen Cao, have gone on to span six books.
The 58-year-old lives with his wife and daughter in Missouri but visits his hometown, Shanghai, once or twice a year.
He appears as the archetypical Shanghainese man, speaking in a low voice and smiling broadly.
Qiu took a break from Inspector Chen's adventures for a while to tell other stories about Shanghai.
The product of this sabbatical is Years of Red Dust: Stories of Shanghai (2010), a collection of interrelated short stories set in downtown Shanghai's Red Dust Lane.
It took Qiu some time to convince his publishers to risk publishing a book without a mystery to solve. He says it was even tougher to sell them on a short story collection. But the book, first published in French and German, has already sold a quarter million copies.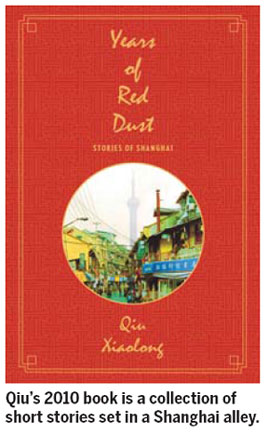 Qiu did a documentary for a German TV station after the book's publication. He brought a production team to Red Dust Lane, which was close to his childhood home and was where he would hang out after school as a youth.
The article in its entirety at

China Daily, the official Chinese English newspaper.
Titles available by Qiu at The Poisoned Pen:
by

Xiaolong

, Qiu ($13.99)
by

Xiaolong

, Qiu ($14.00)
by

Xiaolong

, Qiu ($13.95)
by

Xiaolong

, Qiu ($14.99)
by

Xiaolong

, Qiu ($24.99)
by

Xiaolong

, Qiu ($13.00)
by

Xiaolong

, Qiu ($24.99)